The AIRTEC system
Our management of air conditioning and ventilation systems ensures that the air is clean
For many companies, clean air is the prerequisite for smooth, high-quality production. The quality of the air has a decisive impact on manufacturing pharmaceutical products, painting vehicle parts, or preparing food in canteens, for example. AIRTEC's filter management, which is not tied to any specific supplier, takes care of supplying the air quality required reliably and reduces energy costs on a sustainable basis. AIRTEC offers a comprehensive portfolio of services: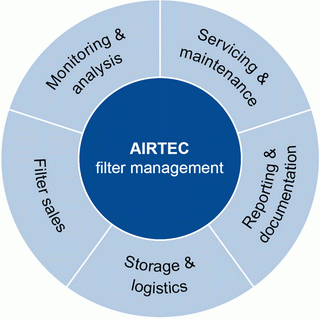 As a service provider, we take over the optimisation and operation of ventilation and filter systems. This has the following advantages for our customers:
A considerable increase in quality
AIRTEC's specialists improve the results of ventilation systems noticeably and ensure stabilisation and optimisation of the air quality in work and production areas – whether it's in cleanrooms, paint shops or for the manufacture of high-tech products.
Guaranteed cost savings
AIRTEC's innovative filter management – which is not tied to any specific supplier – enables you to save considerably on energy costs for operating your system as well as on costs for the filters. What is more, you have no need for expensive acquisition of know-how, nor for further investment costs for special tools, safety equipment, analysis devices or storage.
Reliable operation
You no longer have to take care of planning, optimisation, operation, maintenance, changing filters or certification of your ventilation or filter system. With its experienced employees, AIRTEC manages all aspects of the systems effectively and sustainably.
Strict compliance with requirements
AIRTEC ensures that all hygiene regulations and requirements are fulfilled and takes care of the safe disposal of old filters. All process steps and results are documented fully and transparently.